Customer Testimonials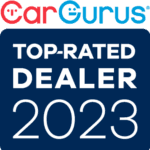 I don't know who's been writing past reviews for Jaguar Stevens Creek, but I can state as a very satisfied customer In June 2021 that the sales, service, parts and finance staff along with excellent management are nothing less than terrific! I bought a new F-PACE P400 suv from saleslady Josie who took me on a test drive and spent hours with me explaining the many features this outstanding vehicle has. The suv came with 22-inch wheels with Pirellis along with electric telescopic steering and many other extras. I've had to return to the dealership many times over ...
Although we had some initial hiccups during the sales process, after escalation they went above and beyond to make things right. Quite impressed. On the service front, service adviser Jose (Pepe) is an all-star and they are well stocked in the loaner department.
I'm surprised to see anything but excellent notes. I have owned several Jaguars over the past 10 years. All bought here. All serviced here. Nothing but good experiences. The price of the service is high, but so is the quality. I have also been offered replacement parts at zero cost on more than one occasion, when they were under no obligation to do so (e.g., when the leather dash started to pull back from the windshield on a 6 year old, out of warrantee XK they replaced with brand new leather for no cost). The fact that they provide loaners ...
I've purchased four Jaguars from San Jose British Motors over the past few years and have always been treated courteously, to say the least. They always offer a loaner car, though I don't need one. Warranty work has been taken care of promptly and with no charge to me. Anthony is the epitome of first class sales and service and I can always trust him to be truthful and knowledgeable. It would never occur to me to purchase a car from any other dealership, though there are others within 50 miles.
---